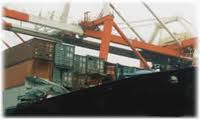 Tribunal considers issues of causation in the context of Owners' liability for delay arising out of damage to cargo
In London Arbitration 22/10 ((2010) 809 LMLN 1), Charterers claimed against Owners for damages arising out of damage caused to the cargo by defects in the hatch covers allowing the cargo to be wetted by sea water. As a result of this damage, the cargo was not passed by the authorities at the discharge port and the vessel was delayed in berthing and discharging for around 23 days.
While Owners did not dispute that they were in breach of the charterparty by reason of the vessel's unseaworthiness (in allowing seawater to cause damage to the cargo), they argued that their breach did not cause the delay. Rather, the delay was caused by the unreasonable actions of the authorities at the discharge port which broke the chain of causation between Owners' breach and the damage caused.
In its decision, the tribunal noted that the starting point for causation was as stated in Chitty on Contracts, 30th ed., Vol 1, para 26-032. There must be a causal connection between the breach of contract and the loss, and a claimant may only recover damages where the breach was the "effective" or "dominant" cause of that loss.
There are no formal tests for causation, and the answer in each case must depend on "the court's common sense in interpreting the facts". The question to ask was: is there the necessary causal connection between breach and loss in the sense of the breach being "still … in effective operation at the time of the casualty", i.e. the "dominant cause" in "the whole complex of circumstances"
In this case, events had taken an unexpected turn once the first sampling of the cargo was taken at the discharge port. On the facts, Owners' breach was not an effective cause of Charterers' loss, and the latter could not prove the necessary causal connection between the two. Owners' breach was not the "effective or dominant or equal cause" of the loss, which the tribunal considered to be the correct test on the authorities. The chain of causation was broken by the events which followed the vessel's arrival at the discharge port.
The tribunal also considered that the loss claimed by Charterers was too remote. The purpose of the charterparty had been to load, transport and discharge the cargo. It could not have been within the contemplation of the reasonable businessman that damage to a very small proportion of the cargo by a small amount of sea water could have resulted in the authorities' extreme reaction and an order prohibiting the discharge of the entire cargo. The delay which occurred could not have been within Charterers' contemplation as "arising in the usual course of things".
It should be noted that the tribunal's decision was based heavily on the specific facts of the case.
A detailed case report can be found on i-law.